Apple iPhone Repair in Liverpool
At The Phone Surgery there is one thing we know how to repair and thats iPhone's.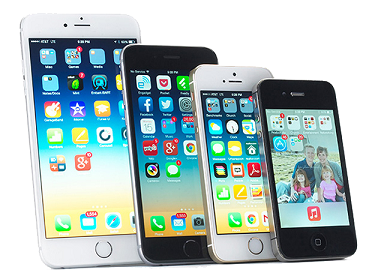 We have been in this game for over 10 years now and was around when iPhone's hit the mobile scene. We have repaired every known issue for iPhones from smashed screens to liquid damage to broken charger ports to iTunes issues.
There's a lot of places out there in Liverpool and beyond that claim they are the best at iPhone repairs, so what makes us different?
We know there is places all over Liverpool that can offer a cheaper repair, but can you guarantee its worth the money? We can guarantee that if we dont have your iPhone replacement parts in stock to receive them the next day, thats a service no other shop offers as they wait at least 3 days upto 1 week. As the saying goes you pay for what you get, and with us its quality, value and fantastic service.
There is a few things that we see every single day from customers who have been to previous repair shops from the likes of missing screws inside, to ebay replacement screens, to copy parts when customer was told they was genuine. We have seen it all and at The Phone Surgery we can guarantee you won't see none of that with us.
We repair loads of issues that affect the iPhone such as:
Smashed screens (we replace with both high quality copies and genuine - you decide which one you want and we guarantee thats what you get)

Broken charger ports (iPhone wont charge or microphone not working)

iTunes logo or Apple logo flashing on and off

Battery issues (not holding charge or turning off when battery still shows power)

Liquid damage (anything over 72 hours we wont repair sorry)

Button repairs (power button not working, home button etc)

New housings (badly scratched or bent frames)

Unlocks (get your iphone unlocked to different networks - we cannot unlock blocked iPhones by network)

Correct repair (fed up of your usual repair centre using cheap parts or no experience? Let us repair it correcty)

If you can't see your issue listed give us a call and we can help
To book in your iPhone 3, iPhone 4, iPhone 4S, iPhone 5, iPhone 5C, iPhone 5S, iPhone 6, iPhone 6 Plus, iPhone 6S, iPhone 6S Plus, iPhone SE, iPhone 7 and iPhone 7 Plus for a repair please call us on 0151 530 1050 or pop down our professional fully insured repair shop at 181 County Road, Liverpool, L4 5PB (click here for google maps & street view)